(Page last updated October 6, 2015)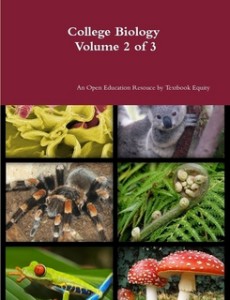 "College Biology" Volume 2 of 3
Chapters 18  –  32  "Evolution and the Origin of Species" through "Asexual Reproduction " 
Buy Print Version   USD $39.20 (paperback, grayscale, 515 pages) Lulu.com ISBN: 978-1-312-39533-6
Download PDF (free)
[bg_faq_start]
Contents Volume 2
Chapter 18: Evolution and the Origin of Species
Chapter 19: The Evolution of Populations
Chapter 20: Phylogenies and the History of Life
Chapter 21: Viruses
Chapter 22: Prokaryotes: Bacteria and Archaea
Chapter 23: Protists
Chapter 24: Fungi
Chapter 25: Seedless Plants
Chapter 26: Seed Plants
Chapter 27: Introduction to Animal Diversity
Chapter 28: Invertebrates
Chapter 29: Vertebrates
Chapter 30: Plant Form and Physiology
Chapter 31: Soil and Plant Nutrition
Chapter 32: Plant Reproduction
Plus chapter summaries, review questions, critical thinking questions, answer keys, key terms by chapter, embedded supplemental learning links.
[bg_faq_end]
---
---
[bg_faq_start]
Advantages of Adopting this Textbook:
Price. PDFs are free. Printed books only $39.00*.    Funds beyond costs go to the evaluation and creation of additional free and inexpensive printed open textbooks.
Comparable biology textbooks cost $180 – $225.**
Class relevant. Adopt only the volumes you need.  Make the textbook yours.
Comprehensive with current content.
Pedagogically enhanced.
Authored and reviewed by the academic community.
Original textbook prepared, published, copyrighted, and released with an open license (CC BY) by Rice University's Openstax College.
Text is available in various e-formats at Rice University's Connexions (cnx.org)
Open licensed. Fearlessly copy, print, remix. Add to it. Take away.  Rearrange. Create class-specific content. (Textbook Equity can help you with that.)
[bg_faq_end]
---
[bg_faq_start]
Advantages of Buying a PRINTED Copy
Easier to read and navigate.
You have the right to give or sell the book to others.
You can mark  it, copy pages, tear out pages, and use it for kindling.
It looks more impressive on your bookshelf than a blank, dusty space.
You can read it anytime you wish, even decades later.
There may be a secondary market.
Honestly, you know the benefits of having a " hard copy."
[bg_faq_end]
---
[bg_faq_start]
Features of All Volumes
Chapter summaries.
Review questions.
Critical thinking questions.
Answer keys.
Key terms by chapter.
Embedded supplemental learning links.
Attributions, credits, and textbook provenance.
[bg_faq_end]