[Paged Updated 10/06/2015]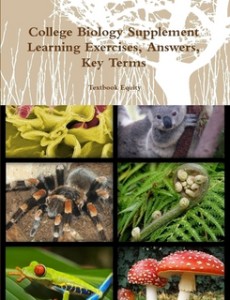 "College Biology -Chapter Summaries, Learning Exercises & Answers" (2014)
This useful publication contains the learning exercises, answers, and glossary of "College Biology" Volumes 1 – 3.
Buy Printed Version  $19.99 USD (Black & White, 263 pages)
ISBN: 978-1-312-45149-0
Download PDF (free, color, 263 pages, 22 Mb)
Contents
Chapter Summaries
Art Connection Questions
Review Questions
Critical Thinking Exercises
Answers by Chapter
Complete Glossary/Key Terms
This textbook is designed as a quick reference for "College Biology" volumes one through three. It contains the "Chapter Summary", "Art Connection", "Review", and "Critical Thinking" Exercises found in each of the three volumes. It also contains the COMPLETE alphabetical listing of the key terms. "College Biology", intended for capable college students, is adapted from OpenStax College's open (CC BY) textbook "Biology". It is Textbook Equity's derivative to ensure continued free and open access, and to provide low cost print formats. For manageability and economy, Textbook Equity created three volumes from the original that closely match typical semester or quarter biology curriculum. No academic content was changed from the original. See textbookequity.org/tbq_biology This supplement covers all 47 chapters.